16
« le: juillet 16, 2013, 16:41:10 pm »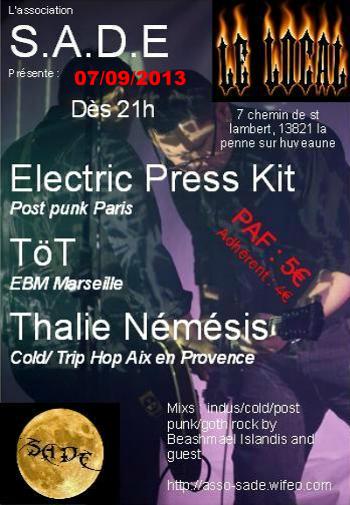 SAMEDI 07 SEPTEMBRE 2013ASSO S.A.D.E
présente:
►
ELECTRIC PRESS KIT
, post-punk (Paris)
https://www.facebook.com/pages/Electric-Press-Kit/161825120506472
Le Samedi 07 Septembre, après , Reims, Paris, Le Mans, Toulouse, Rennes ou Strasbourg, c'est à nouveau au tour de Marseille d'accueillir à nouveau les punk rockers d'Electric Press Kit pour un set électrique dans tous les sens du terme!!! C'est l'occasion de retrouver le duo dont le magasine Elegy (n°69) écrivait qu'ils étaient un des meilleurs espoirs du post-punk français avec leur hit potentiel "Power of Hate"!!!
✔ ÉCOUTER:
http://electricpresskit.bandcamp.com/
✔ VOIR:
ELECTRIC PRESS KIT - "Born in Roswell" (Live - 22/03/2013 - Le Rigoletto - Paris)
►
TÖT
, EBM (Marseille)
www.facebook.com/pages/T
ÖT/108271801505
TÖT is a pure incarnation of underground electronic body music with members coming from bands like PRODROME17,DAS PRATIKAT, OKO SYSTEM.Since 1992.... The nightmare continu...
✔ ÉCOUTER:
https://myspace.com/totvsdmz
✔ VOIR:
http://www.dailymotion.com/video/xvk2oe_tot-raw-metal-cafe-lyon-01-12-2012_music?start=11#.UdqrA6z_ByE
►
THALIE NEMESIS
, cold, trip-hop (Aix en Provence)
www.facebook.com/Thalie.darkmusic
Thalie Némésis délivre une musique sombre, personnelle, déconcertante, parfois orientalisante, inspirée d'univers éclectiques : Lynch, le gothic, la cold wave, le baroque et le trip hop.
✔ ÉCOUTER:
https://soundcloud.com/tali01
✔ VOIR:
https://www.youtube.com/watch?feature=player_embedded&v=9aR8O2lQCwI
►
DJ Beashmael Islandis
(ASSO S.A.D.E)
MIX jusqu'à 5h00
PAF : 5 € / ADHÉRENTS : 4 €
Ouverture des portes: 21h.
Informations:
SALLE :
http://fr.metalship.org/perso/LE-LOCAL
PARKING : Gratuit
POUR SE LOGER :
✔Hôtels:
http://www.google.fr/hotels/?gl=FR#search;l=La+Penne-sur-Huveaune,+France;q=hotel+pas+cher+La+Penne-sur-Huveaune;d=2013-09-07;n=1;usd=1;si=;av=r
✔Campings:
http://www.outcamp.net/camping_ville/9762/camping_la-penne-sur-huveaune.htm
BUS :
http://www.lepilote.com/horaires_ligne/index.asp?rub_code=6&actionButton=SearchByLocalityHiddenField&keywordsLocalityDep=La+Penne-sur-Huveaune
CO-VOITURAGE :
http://www.covoiturage.fr/
Le Local
7 Chemin de Saint-Lambert,
13821 La Penne-sur-Huveaune
✔EVENEMENT FB:
https://www.facebook.com/events/478458235572371/
✔TRAILER:
Trailer [07.09.13] ELECTRIC PRESS KIT+ TÖT+THALIE NEMESIS-Le local-Penne-sur-Huveaune