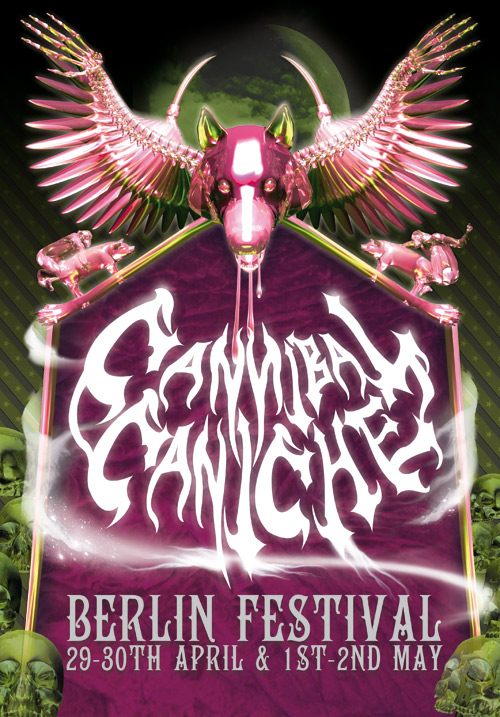 Cannibal Caniche est un collectif promotionnant les musiques libres sans limites de genre !
Venz découvrir au travers de ce festival des artistes de tous les horizons géographiques et musicaux.

Cannibal Caniche ist ein Kollektiv für die Förderung der freien Musik unabhängig von der Genre!
Komm und entdecke durch dieses Festival die Künstler von allen geographischen und musikalischen Horizonten.

Cannibal Caniche is a collective promoting any kind of free music !
Come and discover through this festival artists from many geographical and musical horizons.




!!! THIS PAGE IS UPDATED REGULARLY !!!




: : S H O W S : :

// Room 1 \\

John Makay / math rock
Grand Predateur / post metal war machine
Warsawwarsaw / noise trash manifesto
A.N.T.I. / arbre nuageux terrestre industriel / harsh
Manécante / krashtest / hijos de puta
Lain / ambient-speedcore
LT / cagliostro
Ucture / ambivalence
RYBN / audiovisual noise
Anna Bolena / idroscalo digitale - video installation


// Room 2 \\

Yann Hekate / experimental hiphop - downtempo
Company Fuck / Noise Karaoke
Christoph Fringeli / exp break djset
Monsieur Connard / electronica/exp hiphop
Dasha Rush / downtempo/electronica
Letal Ataraxia / exp downtemp
Kirdec / experimental breaks - field recordings
Bombyx / ambientpostindustrialspeedcore with guitar
Hecate / Yann keller / Ratbag / freaky industrial-break
Akinetik / visuals
KLABO / visuals

Friday, Apr.30 @ Rauchhaus

Mariannenplatz 1A, 10997 Berlin (U Kottbusser Tor)
from 20:00 to 06:00 - 4€
// Spukkomune \\

Rinus van Alebeek vs Tzii / tapes manipulation
Anton Mobin vs Dincise / free improvisation
Kro de la Bestiole / bugged TV performance
Th-Th / nerdy noises


// Keller \\

Christoph de Babalon / atmospheric dark breakcore
isAAAc / amiga destruction
GVK /industrial break/hiphop
Gouffre d'un pôle à l'autre / dirty harsh noise
Charlie Sensation / coldwave/electronica
Syd / exp djset
Marshall Reptilos / prophetic absynth primitive music
Unas / 8bit grindcore micropunkerotic show
Line Destruction / exp-ambient-noise
Vidio Atak / visuals
mysh3l / visuals
Luca Carrubba aka Husk / visuals

Sunday, May.02 @ Loophole (After Party)

Boddinstr. 60, 12053 Berlin (U Rathaus Neukölln)
from 08:00 to ...... - on donation
Speech about copyleft music by christoph fringeli and tzii at Rauchhaus on Apr.30 from 20:00 to 22:00

Presentation of Qeve (open source video software designed in pure data)
by Luca Carrubba aka Husk estereotips collective on Apr.30 @ Rauchhaus (18:00 > 20:00)

D.I.Y. Analog synth creation workshop
(2 days : on Friday and Saturday, 4 hours each day)
Limbus Europae, corner Kienitzer Strasse / Weisestrasse (Neuköln)
please contact j.millot AT stupiddesign DOT fr for inscriptions
by Julien Millot( www.stupiddesign.fr/ )
Reports and Interviews by Anton Mobin, PiLaMi, Planetaldol, Th-Th, Kirdec,
jingles by Dead Beat each day begining of the afternoon on KKWNE webradio / station based at EMITTER19.



After and Frühstuck Sunday...